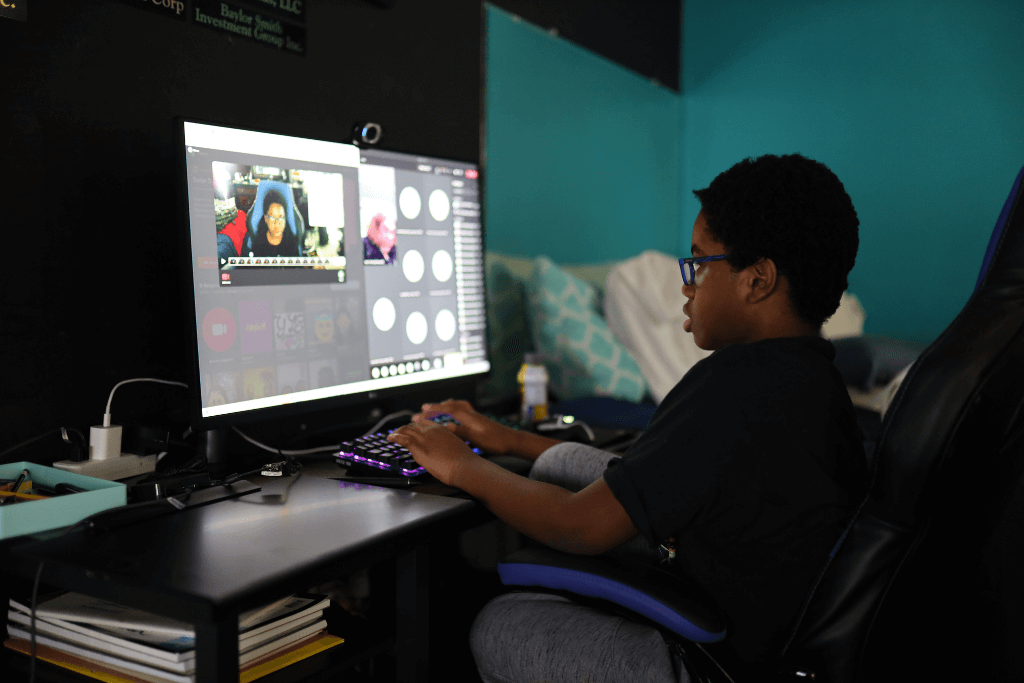 Everything you need to know about Internet Safety for Children
Categories

News

Date

August 13, 2021
As the internet becomes more prevalent in our daily lives, it also becomes an increasingly popular destination for children. It's important to be aware of what your child is doing online and how they are using their time on the internet.
We all know children are curious. They're always looking for the next adventure, be it climbing a tree or exploring their backyard. And now they have access to so much more than what we had growing up – the internet! This blog post will teach you how to keep your kids safe on the internet and make sure they follow best practice whenever browsing or surfing the internet.
It's a scary world out there for our kids, and internet safety is no exception. However, with the right knowledge and tools parents can help their children stay safe online. In this post we'll cover information on how to keep your child safe, advice from experts on what you should be teaching them about internet safety at home or school, as well as some of the latest research in the field of cybercrime and its effects on our children. We'll also tell you which Software solutions or antivirus are best for keeping your kids safe while they're online so that you can download.
What are the key risks your child faces online?
Below are some of the key risks children face online:
Online bullying and harassment
Sexting/Sexcasting (Web Cam Chat Sites e.g. Chat Roulette)
Inappropriate and unwanted contact or advances.
Revealing personal information that can make a child vulnerable or open to fraud.
Accidental exposure to inappropriate images or content.
Viruses, spyware and phishing scams
Illegal file sharing or piracy of music, film or software.
Higher bills if your credit or bank card is linked with their personal computer, laptop, mobile or table devices – as they sometime download games and other apps without your consent.
Why is internet safety important for children?
The internet, for all its glory and opportunities, does unfortunately feature threats and challenges. These might manifest as online abuse, bullying, threats, impersonation, grooming, harassment or exposure to offensive and/or violent content.
Your children are online at school, at home and with their friends. Laptops, smartphones, tablets gaming consoles and media players mean they can use the internet wherever they go. Whenever they are online they are at risk from unsuitable content, accidentally disclosing their personal data, illegal downloads, file sharing, spyware, viruses, inappropriate advances and cyberbullying.
Children are learning to navigate the world. They tend to be passionate, enthusiastic and trusting. The flip side of these wonderful qualities is that they can lack caution and the ability to discern when they are likely to be at risk. Generally, when we meet people face to face, they give us several cues that help us understand whether their intentions are good or unpleasant. Unfortunately, the internet can't give signals or cues of bad or good behaviours and it's far more difficult to tell whether a person you meet online really is who they say they are.
So as a parent it's vital that you teach your children how to use the internet safely. Below are some good stats to help you have some constructive conversations with your children about internet safety.
According to Ofcom (the UK's communications regulator), 45% of 12-15s who go online say they have seen something hateful about a group of people online in the last 12 months.
A systematic, large-scale review of academic research found that victims of cyberbullying are more than twice as likely to self-harm or attempt suicide.
There have been high-profile news stories about online grooming and it's devastating effects on children
Five Ways to Implement Internet Safety for Kids at Home
If you have a home computer your kids use, there are some extra safety measures you can take to make it safer. Remember that your kids will probably use many other computers, and these precautions won't keep them safe when they're not at home. Just bare in mind, these are mere suggestions; depending on your parenting style and your kids' ages, you may choose not to use all of them.
Here are some tips that can help you maintain a safe environment for your kids while they're surfing online.
Keep the computer in the living room or in another common area. By putting the computer in a common area of the house, you can reduce the chance that they'll talk to strangers or visit inappropriate websites. For teenagers, you may choose to give them more freedom about where they use the computer (especially if they have their own computers).
Install antivirus software on the family personal computer. Viruses and other malware are a risk for any computer (although Macs are slightly safer). To protect your computer, you can install antivirus software such as Bitdefender, Kaspersky, Panda or Norton.
Use a kid-friendly search engine. Regular search engines may return results with inappropriate content you don't want your kids to see. However, there are some search engines that are designed to only return kid-friendly results (although there is still the possibility of inappropriate results getting through). Some good examples are KidTopia and KidRex.org.
Set up parental controls on devices like TVs, tablets, video game consoles, etc. so you can control what type of content is available to them. Windows and Mac OS X allow you to add parental controls to user accounts. These include time limits, website restrictions, and controlling which applications can be opened. You can also buy parental control software like Net Nanny, which has versions for Windows and Mac.
Talk with your kids about appropriate content and sites that might not be suitable for them especially teenagers. Also, block certain websites or restrict access based on age (e.g., if you don't want them looking at porn, block all adult sites) from their smart devices and personal computers.
Teaching Guide for kids to help them Stay Safe from Online Predators
Avoid using suggestive screen names or photos online. These can result in unwanted attention from online predators especially on social media platforms like Facebook, Instagram, Tik Tok, Snap Chat and Twitter.
Never arrange to meet with someone or strangers you met online. Predators may try to arrange a face-to-face meeting with a child or teenager. Even if the person seems nice, this can be dangerous.
Tell a parent or trusted adult if you encounter a problem online. If anyone makes you feel uncomfortable online, you should tell a parent or trusted adult immediately. You should also save any emails or other communication because they may be needed as evidence.
If someone is flattering you online, you should be worried. Although many people online are genuinely nice, predators may use flattery to try to start a relationship with a teen. This doesn't mean you need to be suspicious of everyone, but you should be very cautious.
Don't talk to anyone who wants to get too personal. If they want to talk about things that are sexual or personal, you should end the conversation. Once you get pulled into a conversation (or a relationship), it may be more difficult to stop going forward.
Keep in mind that people are not always who they say they are online. Predators may pretend to be children or teenagers to talk to kids online. They may use a fake profile picture and add other profile details to appear more convincing – so just be careful.
Our top 8 Internet Safety tips for your Children
Be aware of what children are doing online. Show interest in their online activities and talk with them about what they do on the web.
Discuss the internet with your kids and explain to them what you consider to be appropriate use of the Internet.
Make a clear set of rules for using the Internet with your children. Consider writing these out and putting them next to your family computer.
If necessary consider, putting computers in the main living area of the house, where you can keep tabs on how they are being used.
Teach your children how important it is to be cautious online, particularly when they are chatting or corresponding with people they don't know. Discuss with them that all that they are told and read online may not be true.
Be sure your children understand that they should be very cautious about giving out personal information on the internet like their name, home address, school name, or telephone number.
Invent an online nickname with your child and explain that they should use this nickname rather than their real name when they are playing games online, using virtual worlds or chatting online with people they don't know.
Emphasise to your children that they should never arrange a meeting with someone they met online and that they should let you know if someone they meet on the web tries to arrange a meeting
Learning how to keep our children safe on the internet is not an easy task. We can't control what they do online, but we can educate them and teach them about safety. Hopefully this blog post has given you some new tips to use in your own home with your family so that they are better equipped for the future when it comes to navigating their digital world safely.